Cars I've Owned In The Past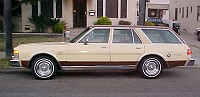 1978 Chrysler LeBaron Town & Country
Purchased May, 1999. 318 4V, a/t, p/s, pdb, a/c, cruise, power windows, power seats, am/fm/8-track. Cream yellow and brown metallic two-tone with full brown vinyl top. Brown leather interior. Car is unusual as it had been specially ordered without the standard wood paneling and with a full vinyl top. Replaced motor with 1989 police engine with approximately 65k miles. Click here for more information and to see pictures of the car as of February 2006. Sold the car to someone who wanted to change their wagon from a slant six to a V8. Later saw the car in the junkyard with the engine still in it.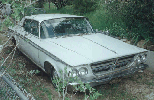 1964 Chrysler 300 sport coupe
383 2V, a/t, ps, pb, pw, 4-way power seat, power antenna, a/c, off-white with tan bucket seat interior. This was my first car. My dad had gotten the car from a friend and used it when he worked in the bay area for a couple years. Drove it back to Pine Valley and then parked it. It had a bad transmission, only had reverse, my dad used to use it for pulling stumps out of the back yard. I got it and fixed the transmission and it became my car. I drove it a lot. It sat for many years until I sold it on E-bay. Owned 1974-1999
1964 Chrysler 300 4-dr hardtop
383 4V, ps, pb, a/c. Off-white with tan bucket seat interior. Was vandalized and got for free as parts car.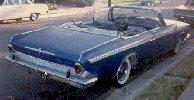 1964 Chrysler 300 convertible
383 4V, a/t, pb, ps, a/c. Bright blue with blue interior and white top, console shift and dual power 4-way seats. Bought from Auto Trader for $200.00. Needed engine reassembly. Blew head gasket but still driveable. Rust in quarters. Sold for $500.00.
1965 Dodge Dart GT 2-dr hardtop
273 2V, a/t, ps. Tan with tan bucket seat interior. Bought for $650. Rear axle broke while brother was driving it. Traded for 1954 Willys Aerolark.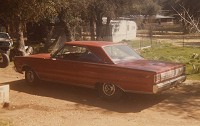 1966 Plymouth Satellite 2-dr hardtop
383 4V, a/t, ps. 11" drum brakes. Red with red bucket seat interior, console.
1969 Oldsmobile Vista Cruiser wagon
350 4V a/t, a/c, ps, pb. White with woodgrain sides. Paid $200, drove car for a while and then it caught on fire. Patched it back together and sold it for $800.
1968 Cadillac Coupe de Ville
472 4V, a/t, ps, pb, pw, tilt-tele, power antenna, a/c. Yellow with black padded top and black cloth and leather interior. Little old lady car. Owned 1978-80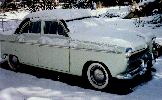 1954 Willys Aero Lark 4-dr sedan
161 F-head 6-cyl. 3 speed with overdrive. Light green body, dark green roof. Grey cloth and vinyl interior. Traded '65 Dart GT for car. Willys needed timing gear and reassembly. Had cracked block but was driveable.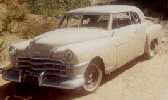 1950 Chrysler Windsor Newport 2-dr hardtop
Flat-head 6-cyl. Fluid drive. Tan with tan interior. Windows broken out of car. Bought in Logan Heights for $450. Did not run. Sold to guy with rusted out DeSoto hardtop for $500.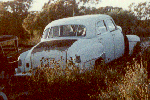 1950 Chrysler New Yorker 4-dr sedan
Flat-head straight 8-cyl. Fluid drive. White with brown interior. Not running. Bought as parts car for Windsor but most parts were different. Bought in Boulevard for $150. Sold for $50.
1965 Volkswagen Beetle
1966 Volkswagen Squareback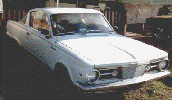 1964 Plymouth Barracuda
273 2V, a/t, ps. Light blue with black '66 interior. Bought for $1200 including '66 parts car. Sold for $750. Replaced engine once.
1966 Plymouth Barracuda
No engine, Maroon no interior. Parts car for '64. VIN BP29B62518775
1969 Plymouth Barracuda Fastback
318 2V, a/t, a/c, ps. Dark green with white side stripes. White and green interior. Hit in right front. Transmission lost 3rd and reverse. Bought for $150, traded towards '64 Polara 500 convertible.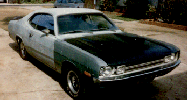 1971 Dodge Demon 340
340 4V, 4-spd, pb, ps. Hemi Orange with black bucket seat interior, non-console car. 3.91 rear axle. Came with factory spoiler and pistol-grip shifter. (not original to car). Purchased for $350.00. Needed timing chain set.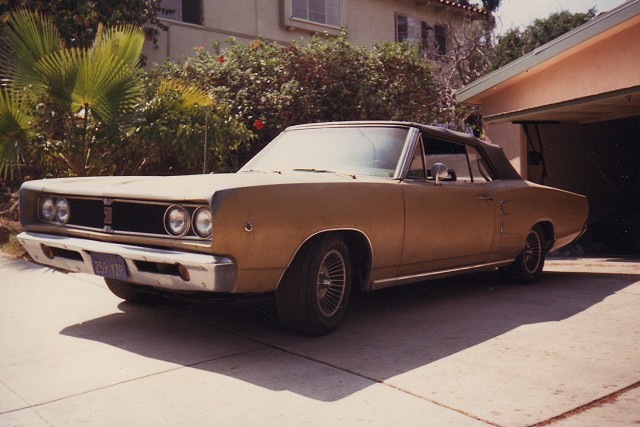 1968 Dodge Coronet 500 convertible
383 4V, a/t, ps, manual 11" drum brakes, console shift. Gold metallic with gold and black interior including two-tone door panels. Black top. Purchased for $650.00.

1971 Dodge Charger Super Bee
383 4V, a/t, ps, pdb, 3.91 High Performance Axle Package, 15x7 Rallye Wheels, rubber bumpers. Hemi Orange with white full vinyl top and white interior with console, Tuff-Wheel, AM/FM stereo. Black stripes. Bought for $1000, sold for $1700.

Click here for more information and pictures.
1971 Dodge Charger R/T
440 4V, a/t, ps, pdb, add-on A/C. Plum Crazy with white full vinyl top and interior with console. Stripe delete car. Bought for $500 as parts car for pink R/T but too nice to part out. Car needed new k-frame due to broken control arm mount. Transmission iffy. I rebuilt the front end and replaced transmission. Sold car for $4700.

Click here for more information and pictures.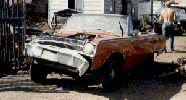 1969 Dodge Dart GT convertible
No engine or trans. Originally 225 slant-six a/t. Red with black interior and top. Hit hard right front. Was going to restore but ended up traded in on '68 Barracuda 383. Car ended up being parted out.
1964 Dodge Dart 4-door sedan
225 slant six. a/t. Dark blue with blue interior. Bought in Portland Oregon for $200 in March 1980. Only made it about 100 miles towards California before rear axle broke. Sold to tow truck driver for $60. Enough to get bus ticket home.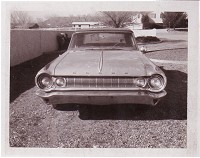 1964 Dodge Polara 500 convertible
383 2V, 4-spd, ps, medium turquoise with black interior and black top. Dealer installed MoPar spotlight/mirror combo. Came with original window sticker, dealer invoice, certicard and all manuals. Originally from Durango Colorado. Purchased in 1989 for $2500 as parts car for other '64 from wrecking yard in New Mexico. Had damaged right door and quarter. Too nice to use for parts. Excellent running car. Sat from '79 to '89. Sold for $5000. Owned 1989-96

Click here for more information.
1968 Plymouth Barracuda Formula S fastback
Parts car. 340 4V a/t. Disc brakes. Dark blue-green with black deluxe interior. No engine and car was ex-racecar, fenderwells cut out. Dismantled for parts for 383 car. Bought on 5/28/88 for $150. VIN BH29P8B419652.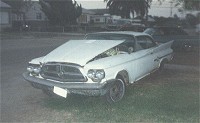 1960 300F 2-door hardtop
413 dual-quad long ram, a/t, a/c, ps, pb. White with tan leather interior. Rusted severely and engine apart/frozen. Parted out. Paid $500 on 9/16/89. VIN 8403129501

Click here for more information.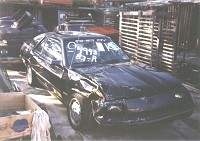 1987 Shelby GLHS Charger
2.2L intercooled turbo, 5-speed. Hit right front, buckled floor and roof. Bought for $650 at auction. Used as parts car for Rampage intercooler conversion.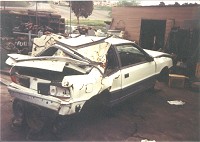 1988 Shelby CSX-T
No engine or trans. Bought for $110 at auction for wrecking yard going out of business. Had crushed right roof and quarter. Many parts missing. Kept rear axle assembly for spare brake parts. Sold most of the CSX-T specific parts.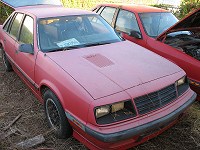 1987 Shelby Lancer
2.2L intercooled turbo 4-cylinder. Automatic transmission. Bought from original owners in 2000 as a parts car. Engine apart and parts missing. Sold in 2008.

1978 Dodge D150 Longbed Pickup
Purchased February 2001 with 108,000 miles. 318 4V, a/t, p/s, p/b, no a/c. Engine and transmission rebuilt at 92,000 miles. Sold in 2012