Pictures of my 1987 Shelby Lancer
Click here to see my other cars.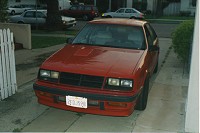 This car is for sale. Asking $750 or make an offer. It will have to be towed and is located in San Diego, CA. Contact me at
I bought this 1987 Shelby Lancer in around 1993 and drove it for several years. The car has been sitting several more and no longer runs. It ran when it was parked but I can't get it started again. There was a knock in the engine when it was parked. The picture at right was taken around 1997 and the ones below in 2008 and 2012. As you can see, the car has deteriorated from sitting and would need a full restoration. It is missing its dash plaque and original Pioneer stereo system.
The other Shelby Lancer in the pictures has been sold already.
Click on images for larger views.