1984 Dodge Rampage
Click here to see my other cars.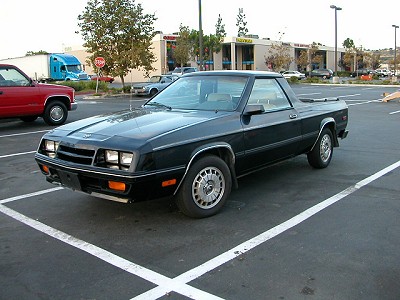 Here is the 1984 Dodge Rampage pickup I bought on September 14, 2004. The truck has 71,000 original miles and is very solid. It has a 2.2L 4-cylinder engine, 5-speed manual transmission, air conditioning, power steering, power brakes, AM/FM radio, aluminum wheels. It has a whopping 96 horsepower but should get 30-35mpg with no problem. It will probably have a turbocharged engine in its future.

This is actually my second Rampage. My first one was a 1982 model that I bought many years ago at a salvage auction. It had a broken timing belt and close to 100,000 miles. I fixed the timing belt and eventually converted it to turbo power. I put another 100,000 miles on it along with a second engine upgrade before retiring it with a blown head gasket. One of these days I'll create a full page for it. Click here for a picture of my old one soon after I converted it to turbo power.

Dodge Rampage pickups were only made in 1982, 1983 and 1984. It is based on the Dodge Charger with a longer wheelbase, 104.2" vs. 96.5". From the doors forward they are the same. There was also a Plymouth version called the Scamp that was only made in 1983 and is quite rare. Also rare is a special model made at the end of the 1984 model year that has the trim and paint style from the Shelby Charger of that year. They have the 110 horsepower engine that came in the Shelby Charger and Omni GLH. The total production of Rampages and Scamps is only about 10,000 vehicles. I don't know why they didn't catch on, they are a very practical and fun truck to drive. Maybe if they had lasted one more year and got the factory installed turbo engine, things would have been different.

Click here for information on the Shelby-style Rampages.

---
Click on images below for larger views.