Cars I Own Now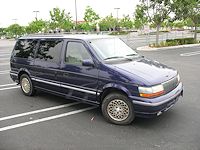 1995 Chrysler Town & Country
Purchased 6/18/12. 3.8L, 4-speed automatic. 106,000 miles. Bought this van to eventually replace my PT Cruiser as a tow vehicle for camping trips.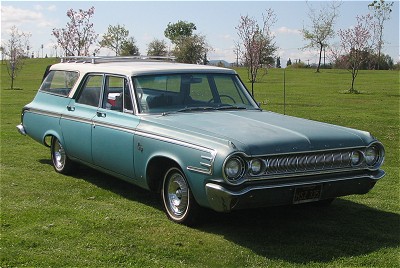 1964 Dodge 440 wagon
Purchased 4/06. 318 2V, Automatic trans, 3-seat, A/C, 142,000 miles. Bought from original owner.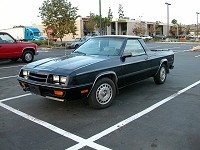 1984 Dodge Rampage
Purchased 9/14/04. 2.2L 4-Cylinder, 5-Speed Manual, A/C, Power Steering, Power Brakes. I didn't really need another truck but I have been keeping an eye out for one of these to replace my 1982 Rampage that is practically worn out. This truck is in very good shape.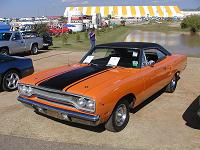 1970 Plymouth Road Runner
Purchased 11/03. 383 HP, 3-Speed Manual, Manual Brakes, Manual Steering, 3.91 Sure Grip Rear Axle, Tachometer.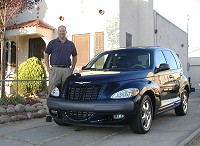 2002 Chrysler PT Cruiser
Purchased 7/30/2001. My first brand new car. I ordered this loaded Limited model from the factory and got it in only 36 days. It came with pretty much everything standard, the only options I ordered are heated seats and anti-lock brakes. I added a Chrysler 10-disc CD changer, trailer hitch & wiring and rear mud guards. This car has been great.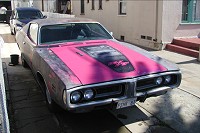 1971 Dodge Charger R/T
Purchased 1987. 440 4V, a/t, ps, pdb, a/c, cruise control. Panther Pink with full black vinyl top and black interior with column shift. Rim-blow wheel. Black stripes. Found at Pomona auto swap meet. Traded '80 Pontiac Sunbird (parent's old car) for Charger. Owner had spray painted exterior of car black. Rust in quarters, inner fenders and small hole in driver's floor. Damage to left front fender and door. Right front fender has coffee can rust patch in top.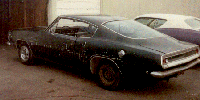 1968 Plymouth Barracuda Formula S Fastback
Purchased 1987. 383 4V, 4-speed Dark green with green deluxe interior. 70k miles, bought from salvage yard. Complete numbers matching drivetrain. Original broadcast sheet. The car is fairly solid with only a couple minor rust spots. Many dents in body and interior is trashed. Had burnt valves when I bought it and the exhaust system had been torn off by forklift. Engine disassembled in 1987 and heads rebuilt. Will probably be painted white with a black interior when finished.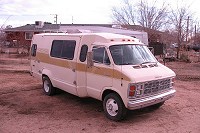 1979 Brougham Travel-Van
Bought through Craigslist in February 2009. Originally had 440 engine, now has small block. Bad transmission. 1-ton Dodge F30 chassis. 87k miles. Originally from Arizona. More information to come as project is worked on.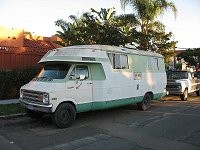 1974 Dodge Hall GTC
Bought through Craigslist in November 2010. 360 2bbl engine, 21'10" long. Fully self-contained. Runs and drives fine, very dirty inside and out, ugly upholstery. Going to take a lot of work.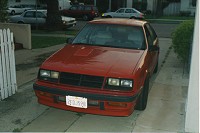 1987 Shelby Lancer
2.2L intercooled turbo, 5-speed. Ex Thrifty rental car. Bought through Auto Trader for $3000. Had damaged core support which was replaced with NOS parts. Missing original Pioneer CD setup. Car has been sitting for years and is for sale if anyone is interested. The picture at right was taken around 1997, click on it to see updated pictures as the car is no longer in the same condition.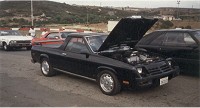 1982 Dodge Rampage
2.2 intercooled turbo, 5-speed. Bought for $400 from lien sale. Had 2.2 2V, 4-speed with bad timing belt. Fixed timing belt and used as everyday car. Had shell when purchased. Converted to turbo with parts from 9000 mile '87 Shelby Charger. Later bought '87 GLHS Charger at auction for intercooled turbo setup.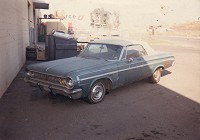 1964 Dodge Polara 500 Convertible
383 4V HP, a/t, ps, pb, pw, Medium turquoise with black interior and white top. Factory tachometer in console and am/fm radio. Bought from South Bay Auto Wrecking for $350.00 less $100.00 trade-in of '69 Barracuda. Needs total restoration on basically solid original San Diego car.