I purchased this car from a wrecking yard in 1985 and I am the second registered owner. The original owner being Maple Lee Williams of Los Angeles, California. I have a letter from her stating that she bought the car new in Hollywood California in 1968 for $3200.00. The furthest she ever drove it was to Sacramento. She had sold the car in the 80s and it had never been transfered to the subsequent owner. She had to sign off on the car before I could register it. I also had to get Chrysler to sign off on her original loan.

The car had been towed away for being abandoned in 1984. The car was towed under the abatement rules of the time. This meant that if the car was on the street unregistered and the police decided that the car was worth less than $100.00, it could be impounded and sold for scrap after a short holding period. I don't know what kind of shape the car was when it was towed but it suffered additional damage in the impound yard. This includes the exhaust system being torn off, many dents and scrapes on the outside, damage to the hood and header panel from another car banging into it and even a dent in the rocker panel from a forklift fork.

The car has just under 70,000 miles. Although the car looks very rough, most of the exterior body damage was done after the car was impounded. The exhaust system was torn off by a forklift. The towing yard was very careless with the car since it was destined to be scrapped. The car still has it's complete matching drivetrain. The car is fairly solid with only one rust hole and a few minor bubbles around the rear window. The interior is well thrashed but complete.

The broadcast sheet is
faded and hard to read.


Letter from original owner.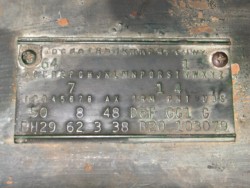 Click on images for a larger view.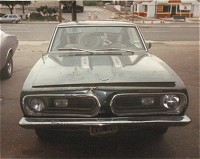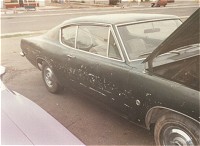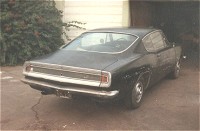 Click here for more pictures.

Car Facts:
383 Super Commando Engine
4 Speed Transmission with Console-mounted Inland Shifter
3.23 Sure Grip Rear Axle
Manual Drum Brakes
Dark Green Metallic
Dark Green Deluxe Interior
Vacuum Gauge
Chrome Remote Left Mirror
AM Radio
Light Group
1 of 553 383 4-speed Fastbacks Produced